Jason P. Tank, CFA
Principal
Jason founded Front Street Wealth Management in 2003 and has been serving individuals and families as a fee-only investment adviser and financial planner in the Traverse City area since 1999.
Before becoming a fee-only investment adviser and financial planner, Jason practiced as an actuary specializing in investment and liability risk management for Allianz Life Insurance Company and Reliastar Investment Research, both located in Minneapolis, Minnesota. He later applied his actuarial background to serve clients as a wealth manager in northern Michigan.
Jason graduated from Michigan State University in 1994 with a Bachelor's degree in Mathematics. In 1999, Jason became an Associate of the Society of Actuaries (ASA) and subsequently received his Chartered Financial Analyst (CFA) designation in 2000. Jason is currently a member of the CFA Institute.
Jason is a long-time native of Traverse City, as is his wife, Jennifer. Together, they have three children who enjoy the time they are able to spend with both sets of grandparents who also live in town.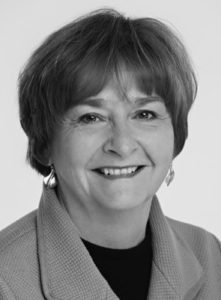 Pam Boyce
Financial Planning
Pam Boyce joined Front Street Wealth Management in 2016 with over a decade of experience helping people meet their financial goals and finding answers to their money concerns.
Prior to joining Front Street, she began her financial career teaching Personal Finance at Michigan State University before opening her own registered investment advisory firm in Lansing and relocating her firm to Traverse City.
She holds a Masters degree in Family Economics, a certificate from the College of Financial Planning and is a member of the Financial Planning Association.

Jean C. Clous
Operations
Jean joined Front Street Wealth Management in 2009, bringing with her a decade of office administration and business operations experience, previously working as co-owner and office manager of Progressive Building & Design.
Jean handles all administrative client requests and works to support a great customer care experience. She consistently provides a positive and systematic approach to her varied responsibilities. At the heart of her work for Front Street is a deep respect for client confidentiality.
As the firm's operations manager, Jean's responsibilities are many. These span the maintenance of our regulatory compliance program to our firm's internal bookkeeping. Her other duties include maintaining the integrity of our clients' account data and managing the quality of our client reporting process. Finally, she also manages our social media presence, our website and provides valuable editing services for our firm's published commentaries.
While not at the office, Jean enjoys flower and vegetable gardening with her husband, Brian, who is a nurse at Munson Hospital. She is involved in USTA tennis and fundraising events. She also loves spending time with her two adult children, Cory and Ronni, and their growing families.